Chatbots are still a new channel to master for many businesses today. And that's not just in B2B, but in direct to consumer brands as well. But given the nature of different sales cycles that exist in B2B, chatbots will take a little more time and effort from your end to make sure that it fits seamlessly into your funnel workflows.
Ultimately chatbots are meant to be your SDR and AE team's best friends. And no, not because they pretend to be human but because they act as the perfect line of defense for your revenue teams (i.e. sales & marketing). They go another step further and allow your marketing team to handoff hot leads and enable your sales team in real-time. Not a week after a webinar, or 3 hours after they submitted a demo. It's all in real-time.
However, the unfortunate reality is that chatbots can fail if they aren't optimized for your website and go-to-market strategy. The success is contingent on multiple factors:
How well its integrated to the rest of your marketing and sales stack
How aligned your targeting capabilities are to the rest of your marketing campaigns
How often you optimize your chat sequences to convert better conversations
How well your sales team was trained on the platform from how often you utilize them to whether your team was trained thoroughly on its ins and outs.
This is just to name a few.
We may be biased, but we believe chatbots can be leveraged to accelerate your pipeline and revenue opportunities in ways a lot of other chat tools cannot.
But before we jump into the benefits chatbots bring to your team, let's understand how you should approach choosing a chat platform in the first place, and why they haven't worked for you [before].
Choosing the right solution for your team isn't an easy feat
One of the biggest challenges organizations face is choosing the wrong solution for their websites. Understanding your use case and knowing what you want out of your solution is critical to ensuring the platform you choose will support your pipeline and revenue targets.
There are a lot of key features to consider when choosing a chatbot platform; but not to worry, as we broke this down for you in a separate buyer's guide so you can ask all the right qualifying questions and see which features are better suited for you and your team.
Chatbots and chat platforms range mainly from use cases. While some serve as customer support bots, others are better suited for demand generation, ABM and sales acceleration strategies. Then they break off into individual features that can affect your decision process; from pricing models to platform integrations and onboarding and support. Get all that information and more in Your Buyer's Guide to Choosing the Right Chat(bot).
Chatbots aren't meant to be human
Yes, that's right. Chatbots aren't meant to act as a human replacement on your website. They are meant to support your team, qualify visitors on your website that aren't yet ready for sales, and direct them to pages or content that will engage and nurture them further.
If all your conversations are automated—there is a problem.
They can be used to automate simple but time-consuming tasks and help free up time for your team to get to the more in-market buyers or sales-ready prospects.
And at some point, there needs to be a handoff to a real human on your team. Your chat platform should do the leg work, but your team brings it over the line.
The truth is, AI technology hasn't reached a position to be useful by itself for B2B use cases. Due to the nature of Natural Language Processing (NLP), it can be difficult for the bot to understand human emotions conveyed through the conversations, and support large free-form texts. Which is why it's critical you use chatbots as an assistant to your human team rather than takeover the conversations altogether.
A conversation is worth having when the other person is listening.
Finding the balance between human-first and automation because conversational marketing isn't just chatbot
With that said, a key aspect to a successful chatbot platform on your website is finding the right balance between human-first chat and automation. As mentioned earlier, chatbots are meant to act as an assistant to your human team, not pretend to be human. Therefore, when leads are on your site, you want to automate conversations for unknown visitors or cold prospects so you can uncover their pain points.
If however those leads are target accounts, qualified prospects, or engaging on high-value pages on your website, you want to alert the appropriate sales rep to come online and initiate a conversation.
Chatbot automation is beneficial when there is a large influx of visitors on your site and your sales reps are struggling to reach out to each one. Or outside of office hours when an agent is not available. Automation is only beneficial early in the conversation—they help to filter and route leads to the appropriate sales reps. But what happens when they need to speak to a sales rep and are only faced with scripted options? This is when human-first has an upper hand as agents and visitors can communicate in real-time to reach instant solutions. With a chatbot, you can filter the qualified from the browsers, so that more sales conversations are created into your pipeline.
Creating conversations that are actually engaging
Too often than not, conversations configured on these bots are not engaging nor intriguing enough for leads to click and respond to. How many times have you gone on a website and just seen "How can we help you?"
As marketers, we can do better.
It's important to identify the type of visitor on your site to better target the conversation for them. Some visitors are there to browse, while others are there to binge your content, analyze your pricing plans or simply understand your products and solutions you have to offer. With that said, knowing each type of visitor will allow you to craft more compelling greeting messages.
While some platforms offer templates for conversations, these are great to use as a basis for your conversation. But, you must still tailor and deploy it in a manner that will benefit your target audience. The saying "know your audience" is exceptionally true in these circumstances.
We could even go a tad bit further and say how do you know what works if you haven't yet tested it? This is where A/B testing is critical for your chat greeting messages. You need to configure multiple tests to be able to optimize your conversations and increase your response rate.
Underestimating and overestimating your resources
Before you can consider the integrations and features of a platform, sometimes it's necessary to step back and assess your resources and availability for the implementation process. Time is of the essence and is essential for deployment, implementation, onboarding and set up times required for an entire chat platform. Assess the availability of your team, especially your SDRs who will be handling the solution. As far as any tool goes, the onboarding and support process can determine your team's success in the adoption process.
Critical questions to ask your chat vendor:
How easy is your implementation and onboarding process?
How will you train and drive adoption with my sales team?
How is your support to any chat user, and is that an additional upgrade?
Do you have best practices and suggestions to keep optimizing our performance?
Companies that have a failed chatbot solution on their hand can attribute it to lack of proactive support from their vendor, overestimating or underestimating the availability of their own resources to handle and maintain a chat solution.
Integrate chat with your existing MarTech solutions
You may already have a hefty tech stack. From your marketing automation platform to CRM to internal messaging channels like Slack and MS teams, and everything in between—there's a lot you need to consider about how a chat solution will seamlessly fit in.
You'll want to optimize your chat solution to work cohesively with your existing tools. Integrating your platform with your automation and customer management tools can take you to new heights, and help you:
Target qualified prospects for a personalized conversation when they come on site
Roll out the red carpet for target accounts and have a real human welcome them
Store, organize and manage your new leads via chat within your marketing automation or CRM
Track conversations in your marketing automation and CRM at the contact level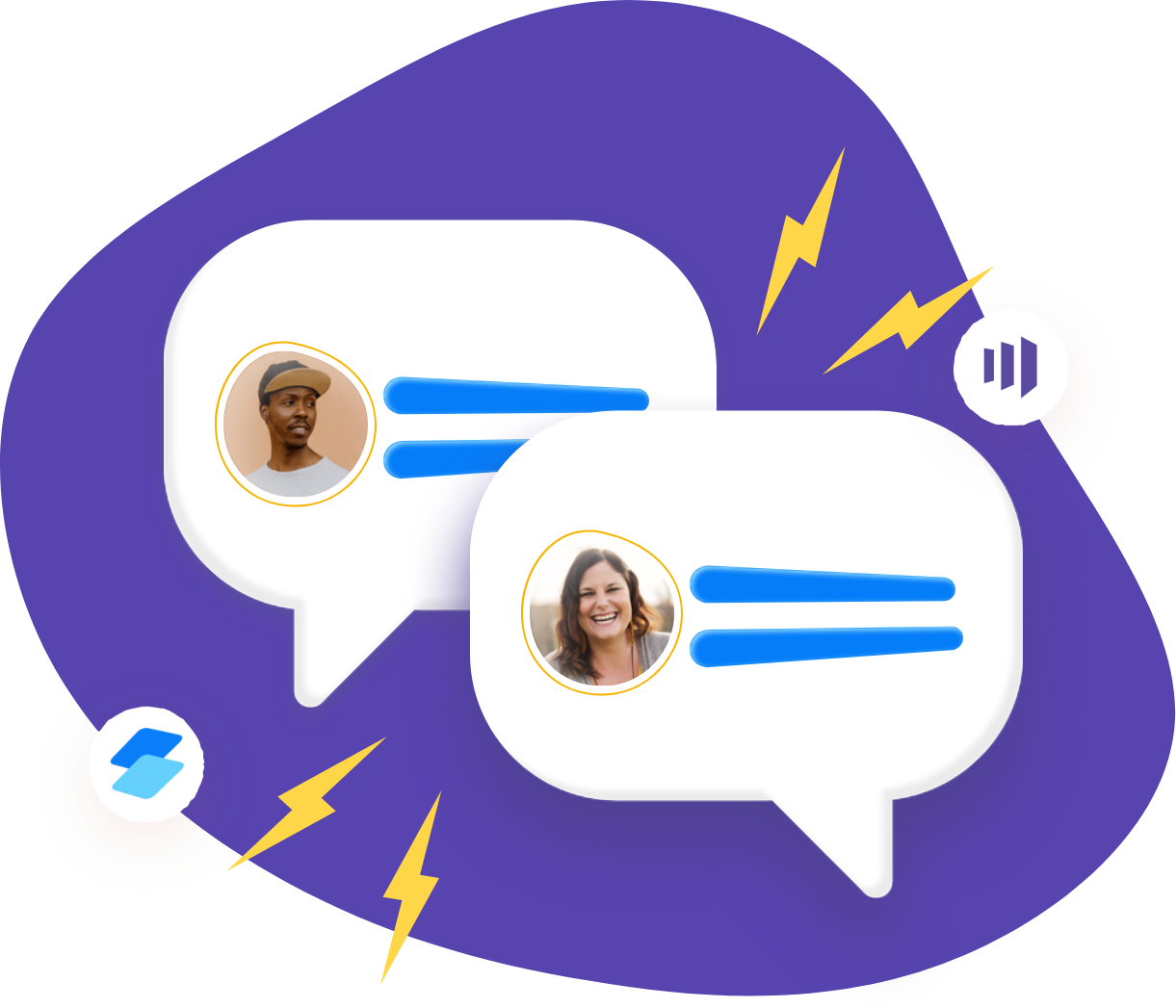 Companies often don't take this into account when choosing their chat solution. So when their new platform doesn't integrate with your existing tools, it essentially becomes useless.
According to Gartner, 80% of all new enterprise applications would be using chatbots by the year 2020. By 2021, chatbots would be "the most important platform paradigm" for the enterprise. In numerous reports, you can see that the hype of chatbots that peaked in 2016 has slowly slowed down. But regardless of the dip in its hype, the versatility of chatbots to support businesses in a wide range of industries is what makes it a thriving source of support for many businesses.
To guide you through the process, download this free checklist, so you've got the right questions on hand for your next chatbot solution to be a success.
Aatharsha is the Digital Marketer at Insent. She loves creating B2B marketing experiences that help marketers stand out from the crowd and fill their funnel with qualified buyers.